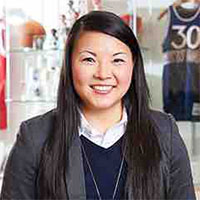 VOLUNTEER
Anna is a Senior Traffic Manager within the Partner Operations group at BAMTech (formerly MLB Advanced Media), the industry leader in streaming media service and innovative digital technology. After graduating from the University of Washington, Anna went on to work for the
NBA, MLB and now BAMTech. Anna is honored to play a small role in Thriving Elements' mission to help intelligent young women pursue their passion. She hopes to see more women enter the world of technology in whatever field they're interested in.
BECOME A VOLUNTEER
As you know, starting up a non-profit is no easy task. Thriving Elements is currently operating under all volunteers who strongly believe in our vision and mission. If you are interested in helping, please email janet[at]thrivingelements.org.
MEET OUR VOLUNTEERS